Welcome to Pro-Products
At Pro Products we have a simple philosophy, offer only top of the line habitat control products and back them with a total commitment to customer satisfaction.
Pro Products are the choice of professionals and are used by leading zoos, private breeders and hobbyists worldwide. If you want superior, innovative habitat control products for your vivarium, then you have found them here at Pro Products.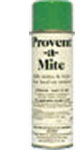 Provent-a-Mite™ spray is the only patented, EPA approved product that will eliminate mites and ticks that infest your reptiles regardless of type of enclosure and substrate used. Provent-a-Mite™ is safe and effective when used as directed. Provent-a-Mite™ is the Only treatment available that can be used preventatively on any type of substrate that will stop mites from ever being a problem again.

Pro Mist™ micro fine misting systems outperform any comparable system currently available. No other system can match our mist characteristics, flexibility, or ease of use. Pro MistTM micro fine misting systems feature custom nozzles capable of flow rates as low as 1/4000 GPM, 2 to 3 times Less than any comparable system!

Pro Heat™ Radiant Panels are superior to any other type of heat source currently available! Pro Heat™ radiant panels are safer, less expensive to operate, more efficient, longer lasting than any other type of heat source and come with a 10 year warranty! Pro Heat™ radiant panels are the only type of heat source that safely creates the proper basking area, automatic thermo-gradient and ambient temperature your animals require, all with one unit.